D.A. Mike Nifong Reacts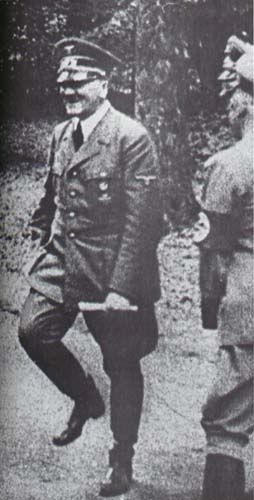 to
news
that charges of "aiding and abetting misdemeanor larceny" were successfully launched against Public Enemy Number One, Moezeldin Elmostafa, during a midday sneak attack today in Durham. In a rare public statement, Der NiFuhrer angrily made clear that he "will not have some weirdly-named hack from wherever the hell he's from driving get-away cabs for department store purse theives be the nation's impression of Durham." In a testy exchange with
News and Observer
reporter, Joe Neff, Der NiFuhrer was evasive on the issue of whether or not a previously unknown videotape of the Great 2003 Pocketbook Heist has suddenly been found:
Q:
Have you seen a videotape of the theft itself tending to implicate Mr. Elmostafa in the perpetration of the crime?
A:
Have I personally seen...
Q:
Yes.
A:
Do I know if the...
Q:
Do you know where it is?
A:
... to my knowledge that—I do not.
Q:
OK. So you do not possess a previously undisclosed videotape of Mr. Elmostafa's alleged "aiding and abetting" the theft of $250 dollars worth of clutch bags that you will seek to introduce as evidence against him in the upcoming trial of this matter?
A:
To my knowledge, I have not done that yet.
In other news, Kim Roberts still owes more than $24,000 dollars in restitution mandated as a condition of sentencing upon her felony embezzlement conviction. Der NiFuhrer had no comment when Mr. Neff asked if the disparate handling of the two matters might not send a troubling message to the local citizenry.