"Persecution," by Stephen Miller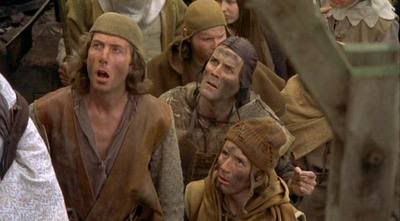 How do you know she's a witch?
SHE LOOKS LIKE ONE!
Yesterday's edition of the Duke student newspaper,
The Chronicle
, included a wonderful article by senior, Stephen Miller. It is a
must read.
Below is my open letter in response to Mr. Miller and the Duke student body:
Dear Stephen:
My name is Mike McCusker. I live in Franklin Lakes, New Jersey, where I coach youth lacrosse. I'm an attorney, licensed to practice in New York and Connecticut. My wife is a Dukie. I have commented extensively upon The Hoax at my blog, "Crystal Mess," and elsewhere in the 'sphere. I do not know Reade Seligmann, Collin Finnerty or Dave Evans, and I do not receive any remuneration or other tangible incentive in consideration of my thoughts.
I'd been following the case, since it had exploded into the public consciousness two months earlier, with but the detached interest of one who loves the game, loves his wife, respects the rule of law, and maintains an occupationally healthy dose of skepticism for all things prosecutorial. Enough had been disclosed by then, of course, from police files, hospital records, witness statements, publicly filed court documents and the D.A.'s own discovery materials, to...know.
I was moved, however, to do something more, anything I might, to help spur justice for the wrongfully accused, on coincidentally sidling up to two men having a sidelines conversation at our town league-sponsored youth lax tournament on May 20th. At first, I was interested only in finding out the score of the ongoing game, the winner of which would play my team in the next round. As I stood there, I could not help but pick up on the agonized tone of one of the gentlemen standing next to me. Understand, I hadn't yet discerned the subject matter of their chat; I merely felt the sudden unease of being an intruder, the unwitting eavesdropper to another dad's angst. I was starting to walk away when I heard "...and I had to stand there with my SON, and walk past that angry mob shouting, "Rapist!" "Dead man walking!" "You'll get yours, Rapist!"
I don't know why I did it, but I stopped, stone still, really LOOKED at the man for the first time, and asked, "Excuse me, but what is your
name
?" He looked back at me with the focused peer of a night sentry seeking to ascertain friend or foe, met my eyes with confident self-assurance, extended his hand and said firmly, "My name is Phil Seligmann. Nice to meet you. What is
your
name?" The other man shortly bade goodbye and we chatted, then, Phil and me, for quite a while. As the game in front of us ended and I had to marshal up my fourth grade troops for their contest, he extended his hand again. We shook, each pulling the other into the warm hug of mutual fatherly understanding. I asked him to convey to Reade that there are millions of people across the country, like me, all of whom who can see, hear, read, and...know. His eyes misted just a bit as he embraced me more firmly and whispered in my ear, "Thank you.
THANK
you! You have no idea how much that means to me and my family." I've never spoken to Phil Seligmann again. This is the first time that I have publicly conveyed the story of our meeting, and I fully expect that, if he sees this, he will appreciate my reason for doing so now.
Much more is now known about the insidious, cancerous malignancy that eats away the good soul of Durham than had seen the light of public scrutiny when Duke students cleaned out their rooms and dispersed for points far removed last spring. The mind-numbing depth of judicial, prosecutorial, police and media corruption shall not, and is not, going unnoticed any longer.
Even as I write this, a man named Moezeldin Elmostafa is likely sitting at a defendant's table in a Durham courtroom. His crime? Mike Nifong would tell you it was "aiding and abetting" the petty theft of $250 worth of purses from a local department store in 2003 by driving the cab in which the actual thief made her way from the scene. His real crime, of course, was having had the moral fortitude to shun the comfort of anonymity and silence, and speak up as a alibi witness for Reade Seligmann. For those who may not know, Elmostafa drove the cab in which Reade made his way to be photographed at a bank ATM at the very time the troubled, false accuser claims she was being sexually defiled in the tiny bathroom at 610 North Buchanan. With upwards of 60,000 outstanding arrest warrants to be served in your city, two investigators knee-deep in the "Mess" were dispatched to find the "Criminal Cabbie," and instructed to let Nifong know when the arrest had been effectuated. Things that make ya go "Hmmmmmmmmm." And this is but one example.
Read all that you can about "2d dancer" Kim Roberts' favorable bail treatment, signed off personally by Nifong. Read all that you can about Sergeant Gottlieb's immaculate dis-association from the Blinko's racial assault case, despite the accuser stating, unequivocally, that the wrong men have been identified, and that the instigator was a bald white male perfectly fitting Gottlieb's description. As a matter of fact, just read ALL that you can beneath a "Sergeant Mark Gottlieb" Google search. Read all that you can about the case from the Durham
Herald Sun
. Keep a sharp eye out for the fiction of Editor-in-Chief Bob "I-never-met-a-butt-named-Mike-Nifong-I-wouldn't-kiss" Ashley. Compare his sycophantic "coverage" with that of Joe Neff of the
N&O
. Read all that you can about "Justices" Stephens' and Titus' despicable perpetuation of the fraud by playing hot potato with young men's lives in deference to their buddy Nifong's hollow protestations of the need for more time to conclude discovery. Read all that you can about Titus' refusal to rule on long-standing defense applications because he hadn't, um, gotten around to reading the motion papers. Imagine Arthur, King of the Britons:
"Run Away!"
As spring has turned to a summer now barreling quickly towards fall, I find it hard to envision the type of Duke student you hypothesize, who "insists the lacrosse players are a bunch of racist criminals and that the players are guilty no matter what the evidence says." Whatever their political persuasions or incoming biases, a Duke student surely can see, hear, read, think analytically, separate spit from Shinola, and...know. I suspect that any individual possessed of the degree of ignorance you posit is ignorant for lack of knowledge only. I can assure you that I know more about the intricacies of this matter than a sizable percentage of the incoming student body. Am I smarter than they are? Certainly not. I went to Notre Dame. But I have read, voraciously, everything that I might access, from whatever source.
For me, now, interest primarily attends the complete exposure and toppling of a too-long-comfy jerkwater Star Chamber. It's no longer only about Reade, Collin and Dave. Their coming exoneration will, of course, be but the catalyst, the tipping point of the vacuum that suctions out the tumors. It's really about the ability of an American citizenry to have faith in its judicial system, the rule of law, and those we entrust to safeguard the due process rights of all.
So, read, Dukies.
Read every single word penned by renowned historian and professor, Robert KC Johnson, here:
Durham-in-Wonderland
.
Read every article at
The Johnsville News
, particularly the painstakingly fleshed out "timeline" and all links to which you are referred.
Read the wonderful blog of Durhamite
John in Carolina
to appreciate his unwavering battle for fair, truly informative, coverage from the the local and national media.
Read
LieStoppers
daily, for its phenomenally well-researched regular updates and wry commentary.
Read
La Shawn Barber
for her unashamed analysis of the hoax from the perspective of an African American Christian Conservative.
Read
Cash Michaels
for his late-arriving, but spot-on, perspective as an advocate for the Triangle African American community.
Read
me
, if you'd like, for politically incorrect satire and analysis that will, hopefully, make you laugh for want of screaming in outrage.
There are other fine blogs covering this travesty and links to all are regularly found cited within the works of those I've highlighted. Read, read, read. For Reade. And Collin. And Dave.
Get involved. Bang pots. Exhort your president to grow a set and use the persuasive powers of, both, his command of language and his position, to demand full disclosure and full justice for his
in loco parentis
charges, now.
Above all, register to vote. I believe that, after
60 Minutes
gets through with Nifong and the rest of the Hitler Youth in less than a month, the November election will be of no moment. For the moment, however, those interested in justice and municipal scum cleansing cannot rest on any assumptions, as newly-appointed Justice Smith's decision to bar the televising of open court proceedings (while Titus' unconstitutional "gag order" yet stands) makes clear.
Be vigilant. Be seen. Be vocal. Be registered. Because they need you.
Sincerely,
Michael F. McCusker