Ham Sandwich Indicts Nifong
Last Friday, Mary Katharine Ham released the wickedly ironic and darkly humorous
Tour Of Things That Did Not Happen In Durham
. Actually a "HamNation" production, drawing upon the talents of her mom, dad, and brothers, this short (2:58) satire is must viewing for Andrew Cohen and the other two extra-terrestrials yet in need of a "Talk To Me Like I'm Three Years Old" tutorial of non-events in Durham over the last ten months.
Today, dad Jon Ham, who's been chiming in with pithy Hoax-Frame commentary for some time now, grabbed the family camcorder in the hope of memorializing Defendant Mike Nifong standing, chest out, chin square, hand raised in Boy Scout salute, while swearing to uphold the laws of the State of North Carolina and the Constitution of the United States. Alas, Jon was deprived of the opportunity to record the historic moment, as was the rest of the media and the public at large, because, as Defendant Nifong
explained
, "I scheduled it at 8:00 knowing full well the courthouse opened at 8:30."
Captain Bill Wrenn, of the Durham County Sheriff's Department, told a WDTV reporter that he had been told "no" when he had asked if he should let people into the building in advance of the historic
farce
sham
puke-inducement
travesty
tragedy
swearing-in ceremony. Asked who had told him "no," Captain Wrenn replied, "I asked Mr. Nifong."
Defendant Nifong was finally found, not in his 6th Floor office hard at work fighting crime, but, sitting in a 5th Floor courtroom flanked by his
mommy
wife, the Stepfordian Cy Gurney, and mortified son, Bryan. Jon was able to get
this
absolutely mesmerizing video of Defendant Nifong under siege from a clearly agitated press corps. "Mesmerizing" in that sort of way one might become rapt on starting to look at a jungle disease book. You get sicker as you go along but you can't stop.
Gone was the trademark cocksure smirk. Defendant Nifong appeared dispassionate, subdued, anesthetized. He can still think up a lie, though, and think it up quick. Pressed as to why the media and public were not permitted to witness the swearing in of a public official, Defendant Nifong explained that
"there are ceremonial ceremonies, and then there are 'let's do this so
we
can get to work' ceremonies...because
we
had to be at work at 8:30...As I've indicated, you know, there's ceremonial ceremonies such as the one
we
had when I was appointed to this office back in 2005 but, now what
we
have is an office with
twenty-one lawyers, all of whom have previously been sworn in, so the ceremonies are over. We have to get sworn in so we can get back to work
...this was not a media event; this was an event that was required of
us
so that
we
could get back to work and do
our
jobs."
Just chew on that for a while. Go ahead. Take your time. It tastes real bad and you just can't swallow it. Poor Mike. Poor Cy. Poor Bryan. What should have been the crowning moment of his career became but an embarrassing "necessity" that he had to lie about. Foisting yet another public deception off on his poor staff. Sick. Explain to us again the relevance of the other twenty one previously sworn lawyers in your office, working on the floor above, whose need to get to work necessitated the closure to the public of a fifth floor courtroom. Please, do explain that again. This guy has "truly gone fishing."
Scarily, Defendant Nifong affirmed that he is looking forward to what he "can do next," feigned pride in
"a lot of good that has been accomplished in the eighteen, 20 months since I've been the District Attorney here,"
and vowed "to do a whole lot more."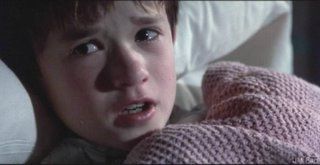 Bloggers beware: He WILL spit on your burgers.
Defendant Nifong then went fully Queeg, and displayed the true depth of his psychotic, delusional, borderline personality disorder with narcissistic overlay:
"Obviously, as witnessed by the fact that you're all here talking to me,
when there's so much other stuff going on
, is...
Durham has some healing to do and I need to be a part of that healing process and I need to have something to do with what, how, how, we move forward from the events that have brought you all here
because you're not here today for a swearing-in,
you're here today because of the things that happened during the course of the last year.
" [Poor Bryan chewed gum tensely and appeared to stare at his shoetips as Dear Ol' Dad loosed this rancid stream.]
Asked if he felt he was a part of the problem in Durham, Defendant Nifong continued:
"No, I don't think I'm part of the problem. I feel I have
assisted in revealing the problem
, um, and, you know,
if we get to the point where it appears
my presence, um, in an investigation or, and so on, in, in anything like that is a hindrance, then we can deal with that at that time."
Craaaaaazy!
Over the rainbow,
He is craaaaazy!
Bars in the windows.
The time is now, Defendant Nifong. Where are the Feds? Get him out of there.
The best scene of Jon's video is its last. As a reporter smugly, or timidly, I'm not sure which, offers, "Sorry, Mrs. Nifong," Defendant "Elvis" leaves the building and the camera lens swings towards the front of the courtroom. For the first time it is revealed that, even as his destruction is being forever recorded for Bryan's future therapists, Defendant Nifong still maintains an odd Svengalian hold over the administration of justice in Durham. Four judges stand in the well, appearing to be awaiting their own swear-ins, as Senior Justice Orlando Hudson sits, silently waiting, on the bench. WTF?
Truly, cinema of the absurd.